Houstonia Magazine - We Dare You Not To Fall in Love with These Vintage Kimonos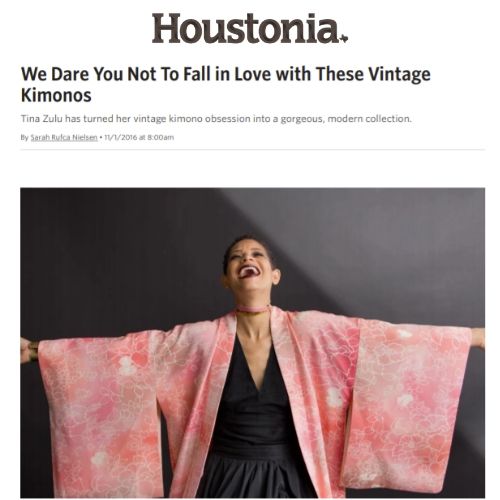 We Dare You Not To Fall in Love with These Vintage Kimonos
Tina Zulu has turned her vintage kimono obsession into a gorgeous, modern collection.
TINA ZULU DESCRIBES HERSELF NOT AS A KIMONO EXPERT, but a fan. In addition to her day job owning her own public relations firm, now Zulu is pursuing her passion with Kimono Zulu, aiming to get Houstonians to rethink their stereotypical ideas about kimonos and appreciate them for the gorgeous, functional pieces of clothing that they are.
"I've just had an attraction to kimonos for years, they're so wearable," says Zulu. Her collection launched this month with a series of trunk shows—the next will be at the downtown Phoenicia on Nov. 9. The inaugural Kimono Zulu line features 50 vintage silk kimonos with prices ranging from $100 to $175, with the exception of four one-of-a-kind artist collaboration kimonos designed by local talent including Katsola and Dawning Soul, which start at $250.
"We just want to show people how to rock a kimono, whether it's as evening wear or over jeans and a t-shirt," says Zulu. "With the holiday season coming up it's a really elegant evening coat." She even styled every piece in the lookbook over her own clothes to show how modern a garment the kimono is, whether worn it the traditional way or by poking your arms through the inner armholes, creating more of a cape look.
Zulu's vintage finds are sourced straight from Japan through a connection that Zulu met at the Houston Japan Festival. "Apparently there's not much of a market for used kimono in Japan," says Zulu, which, you know, is great news for us. 
Source: Houstonia Magazine - https://www.houstoniamag.com/style-and-shopping/2016/11/we-dare-you-not-to-fall-in-love-with-these-vintage-inspired-kimono